Samaria Cooper – April 2017
April 2017
Samaria Cooper
Weddings Manager
Sandals Royal Bahamian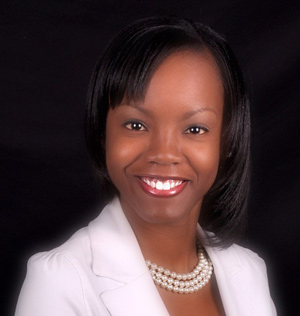 1. Can you briefly describe your experience in the tourism sector and what your role is today?
My experience in the tourism sector has been revolutionary, always something new and different to explore, never stagnant. Tourism has grown for me from serving people, to delivering expectations and now to exceeding expectations. I started as a humble college intern at the British Colonial Hilton where I learnt and grew tremendously. Before ending my internship I was offered the position of Catering Sales Coordinator, which I accepted. Three years later I was offered the position of Asst. Catering Sales Manager. I later left my Hilton family to embrace another exciting opportunity at Sandals Royal Bahamian where I have now been employed for the past 3 years as the Weddings Manager. My department currently holds the title of "Department of the Year" and I current hold the title as "Manager of the Year".
2. Why did you choose to work in tourism as a career?
I am not certain I chose tourism, I believe it chose me. We connected, and like the missing piece to a puzzle "I fit". Tourism/hospitality for me just felt normal, like I was born to help people. This is what I am passionate about! From a crying bride to a gloomy team member, I feel motivated and inspired when I am able to turn a problem into an opportunity and an opportunity into a positive testament.
3.  What has been your most memorable moment?
Almost every day for me is memorable because I turn dreams to reality. One particular reality that's posted on the hallway of my history and also featured in the Tribune occurred during March 2013. Erin Metz and her fiancé Tom Sardina dreamed of having a perfect destination wedding and a cruise to the Bahamas with 60 of their closest friends and family on board. Her father, Gordon Metz also dreamt of the day he would watch his daughter say 'I do'. The father of the bride had been diagnosed with an aggressive pancreatic cancer in July 2012, but he had been doing well with his treatment and there was nothing to suggest he should not make the journey to his daughter's Bahamas wedding. The night before the wedding, however, as the cruise ship was making its way into Nassau, Mr. Metz suffered what turned out to be a massive stroke. Early on the morning on what was to be her carefully planned wedding on the western end of the island, Erin instead found herself, along with her mother, sister and fiancée, keeping vigil at Doctors Hospital. Despite her mother's insistence that they go ahead with the wedding, Erin didn't feel right getting married without her parents there, and so she and her fiancée decided to cancel it. That's when I got the call from Doctors Hospital asking us to host the wedding. How could I have said no? So with time pressing, my team and I made it happen. The couple had a beautiful garden wedding overlooking the ocean and Mr. Metz, surrounded by doctors was right there to enjoy the moment. He died 5 days after the wedding but Erin wrote back and said she can never forget what we did.
4.  Has the industry changed since you started your career? How?
Tourism has definitely changed from the time I started my career. One of the changes seen over my tenure in the industry is improved technology such as larger and faster planes.  A greater awareness has also increased over the years as to what we can offer thanks to television, movies and the internet. This awareness was also evident in the education system when more certificate programs became available to study in the tourism / hospitality field. Conclusively one of the largest changes I have seen whiles in the tourism industry is internet advancement. The internet allows tourist the flexibility of learning a lot about a destination before ever going there. In addition to that, the amount of feedback and reviews you can read from sites such as Trip Advisor does not leave much doubt about what visitors can expect when they arrive. The internet also allows the ease of purchasing tickets, hotels, cars and so much more.
5. What should the Bahamas focus on to stay competitive?
In order for The Bahamas to stay competitive in my opinion we must first stay true to natural resources that keep tourist coming back. I have heard so many visitors say that they return year after year because of four things – sun, sand, sea and the warm hospitality of the Bahamian people. This has to be intentionally nurtured in order to have sustainability. Secondly, we have to stay relevant to attract tomorrow's tourist. This can be accomplished by being trendsetters and game changers with all aspects of tourism. Venturing and developing more of our family islands is definitely a start. Lastly, we must find ways to continuously invest in our people. The Bahamian tourism ambassadors of tomorrow have to be fueled with the knowledge to carry on our Tourism industry.  
6. What advice would you give to a young person who is considering a career in tourism?
As I read this question the words of my father (Samuel Smith Sr. – Owner & Founder of Radiator Specialist) are still edged in my memory. He sat me down before I started my first tourism job and said this field requires focus, determination and hard work. He also said that I have to hang with the eagles if I want to be successful and he was right. Hence, I would tell any young person the same thing and in addition to that let them know that tourism requires passion, persistence and perseverance to survive. I would also encourage them to further their education in the desired tourism field because knowledge is power and it can only aid in their development, making them more marketable in the industry. Lastly, I would challenge them to stay open minded and always be willing to learn. Learning makes you irreplaceable. The more you can learn the more valuable you become.