Dario Charlton – February 2017
February 2017
Dario Charlton
Rooms Analyst l Executive Assistant to
Stuart Bowe Senior Vice President & General Manager
Atlantis Paradise Island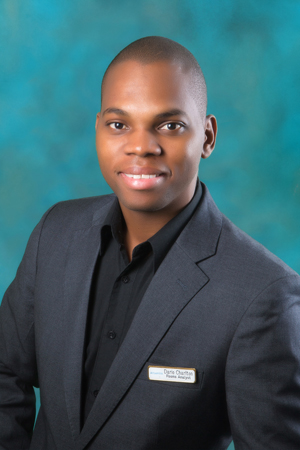 1. Can you briefly describe your experience in the tourism sector and what your role is today?
My journey in the tourism sector began as a Front Desk agent here at Atlantis. The experience was an opportunity of a life time as I was being introduced to the world without ever leaving the Bahamas. I was reared in a family of hoteliers with my mom leading the charge as a veteran of thirty-five (35) years. Some may say that I had the upper hand, and they would be right because of the values and responsibilities that were passed on to me. My career took off and I was fortunate to serve in various capacities and landed my current role a Rooms Analyst and Executive Assistant to the Senior VP and GM of Hotel Operations. Now I have a court-side view of how the business is operated and I play an integral role in the daily operations, planning and execution or major projects.      
2. Why did you choose to work in tourism as a career?
Tourism as a career was my destiny. It is the only industry where the possibilities are seemingly endless. I could be a Marine Biologist, an Accountant, or even a Computer Hardware Engineer and play a pivotal role in tourism. As a hotelier, you wear many different hats throughout your career and I am fascinated by this. The opportunities for growth are limitless and your personal brand can determine how far up the ladder you can climb. The endless possibilities in tourism is the reason I choose this as my career.
3. What has been your most memorable moment?
My most memorable moment was March 14, 2014. I was assisting a guest of the Resort, and only met the request that was made. To my surprise a letter of commendation was received on his behalf. The writer lamented that the sense of urgency and compassion shown was amazing. This was a gracious response to what I assumed was a mere daily task. The commendation opened my eyes to the impact my work has on the lives of others. I am the author of my career and countless readers affirm the depths of my pen.
4. Has the industry changed since you started your career? How?
Over the course of my career the industry has changed for the better. With the prevalence of technology, social media, and communication, the industry changed to meet the needs of the guest. Now guests are able to communicate with management prior to their arrival, during their stay, and after departure by way of social media sites like Facebook or Twitter. And the response is almost instantaneous as teams are now focused of how fast responses are sent and how swift a resolution can be met. We also see growth as Resorts are now designed around tech savvy travelers, with additional power outlets in the hotel lobby, increased Wi-Fi coverage and even cyber cafés.       
5. What should The Bahamas focus on to stay competitive?
The Bahamas must return to the values and standards set by our tourism fathers like Sir Stafford Sands and pioneers like George Myers. My mother benefitted from the standards set by these tourism giants. We must focus on the true definition of Bahamian Hospitality which was defined by the sense of urgency, the anticipation of the guest needs, the sincere desire to serve and the ability to display true Bahamian flavor while interacting.       
6. What advice would you give to a young person who is considering a career in tourism?
My mentor always challenged me to prepare for an opportunity and not wait for the opportunity to prepare. I would advise a young person to further their studies in the field of tourism they are most interested in. Education is power and the more you have the more employable you become. In today's industry, leaders are grooming successors and opportunities are given to younger generations. In the very near future my generation of leaders will be mentoring our successors. As such you must begin your preparation by learning and seeking answers to questions that will increase your wealth of knowledge. More importantly you must develop a hunger for working and be willing to sacrifice to advance your career in tourism. Remember this industry is filled with excitement however, you have to get the job done.