Document Requirements for Travel from the United States

Western Hemisphere Travel Initiative (WHTI): On January 23, 2007, new U.S. government regulations were implemented requiring all adults and children to have a valid passport for all international travel by air.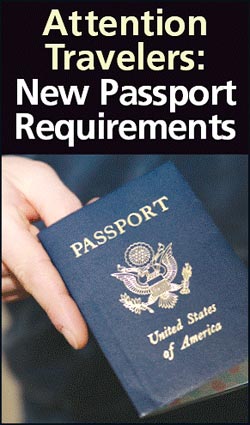 Air Travel: Implemented on Jan. 23, 2007, the WHTI regulation for air travel requires generally all U.S. citizens and citizens of Canada, Mexico, and Bermuda traveling by air between the U.S. and Canada, Mexico, the Caribbean, and Bermuda to present a valid passport to enter, or re-enter, the U.S. As a result of close coordination with federal government partners, private sector travel, tourism industry and the air carriers, 99 percent of U.S. citizens and affected international travelers have complied with this new requirement.
Until January 2009, U.S. Citizens can travel by land or sea to Canada, Mexico & many countries in the Caribbean with only a birth certificate and driver's license. This regulation also applies to travel by sea to The Islands of the Bahamas.
For more information view the following pdf documents from the U.S. Departments of State and Homeland Security:
Western Hemisphere Travel Initiative – Fact Sheet
Western Hemisphere Travel Initiative – Frequently Asked Questions (FAQ's)