BHTA Junior Hotelier Programme Still Active
Industry professionals from all areas and occupational levels, volunteer to spend a few hours helping to inform young people of potential career options, broaden students' awareness about our dynamic industry and set their signs on pursuing one of the over 1,000 types of career opportunities in Tourism.
Despite the Covid-19 Pandemic, BHTA's Junior Hotelier Programme is still active. This year's theme is: Connecting the Dots… From the Classroom to the Boardroom.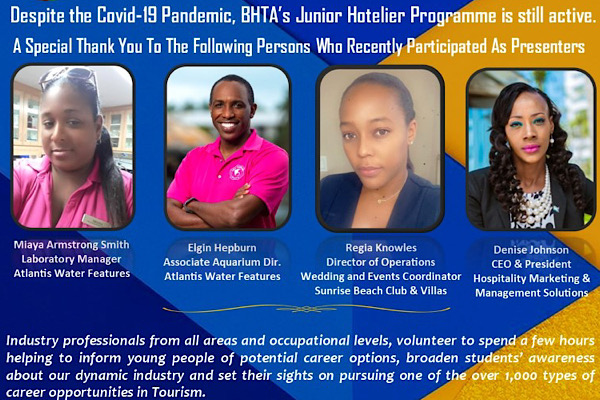 A special thank you to the following persons who recently participated as presenters:
Miaya Armstrong Smith– Laboratory Manager, Atlantis Water Features
Elgin Hepburn– Associate Aquarium Dir, Atlantis Water Features
Regla Knowles– Director of Operations Wedding & Events Coordinator, Sunrise Beach Club & Villas
Denise Johnson– CEO & President Hospitality Marketing & Management Solutions
Don Sargent– The University of The Bahamas
Rembert Mortimer II– The University of The Bahamas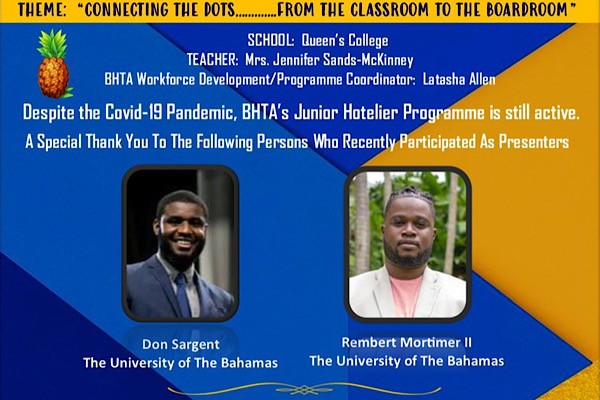 Through early exposure to the industry and interactions with industry professionals, students will:
Explore the myriad of career options available in the industry.
Engage industry professionals in student discussions on the industry expectations.
Acquire knowledge ,soft skills and awareness of industry and guests' needs and expectations.
Link classroom learning and experiences to real work experiences and expectations.
To make the industry relevant, we want the students to hear from you about your work and what it takes to succeed in the Tourism industry.
If you are interested in becoming a Volunteer Speaker, feel free to contact Latasha R. Allen by Email: lallen@bahamashoteltourism.org.